Two longtime friends and rivals met for the Australian Open title on Sunday and not surprisingly, it was another epic five-setter. But when the dust settled, it was Roger Federer holding the champions trophy after a 6-4, 3-6, 6-1, 3-6, 6-3 victory. It was the fifth Australian Open title by the Swiss and his 18th overall grand slam singles championship.
Both players came out strong in their service games early in the first set as they looked to settle in. But it was Federer who found the first opening in the 7th game. After a tremendous baseline rally where both players moved about the court, Federer got the upper hand and won the point, giving him two break points. He immediately cashed in on his opportunity and with his serve at a high level, closed out the set without allowing the Spaniard a chance to level it. Federer limited the number of grinding baseline rallies controlling play with his crisp groundstrokes.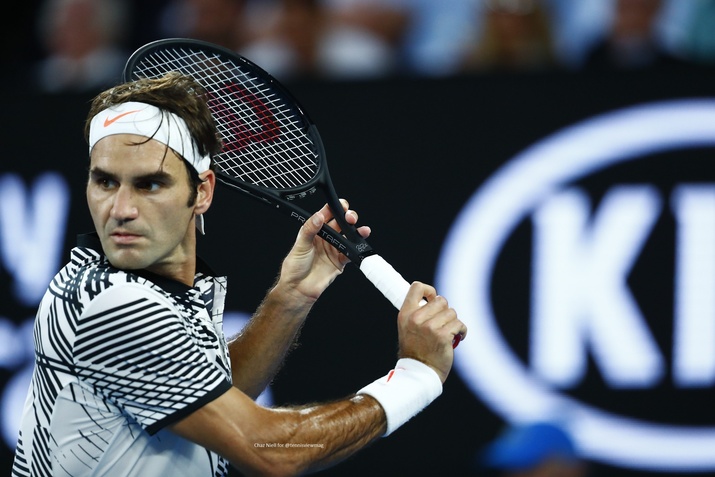 Nadal appeared to make an adjustment early in the second set, moving slightly closer to the baseline to pressure the Swiss. The tactic paid off in the 2nd game as he notched his first service break to take the advantage. He continued to roll in the set, breaking serve again and after the first set with precise groundstrokes, Federer's forehand began to break down. The 17-seed would earn one service break back but the hole was too big to climb out of and Nadal evened the match.
In the third, play heated up as Nadal challenged Federer's serve early but it was the 35-year old who took advantage of a break opportunity to move to 2-0. Gaining confidence and momentum, Federer kept his foot on the gas and rolled through the set.
However, just as it appeared Federer would carry the momentum through the fourth set, Nadal fought back and gained a key service break. And the ebbs and flows continued as the Spaniard went on the offensive again and evened the match again.
Between sets, Federer left the court with the trainer to receive treatment on his upper leg but no major effects were noticeable when he returned to the court.
Both players received a standing ovation as play began in the deciding set. And, Nadal quickly broke Federer's serve as he changed strategy again, moving further behind the baseline. It appeared that Nadal had the momentum and the finish line was in sight, but Federer broke serve, consolidated it and took a 4-3 advantage. Then, after a grueling game where both players had their opportunities, Federer broke serve to go to 5-3. As Federer served to close out the match, Nadal made one final charge as he pressured the veteran and gained an early advantage. But as he did for much of the match, Federer dug out on the heels of his serve and aggressive groundstrokes, taking the set and the match.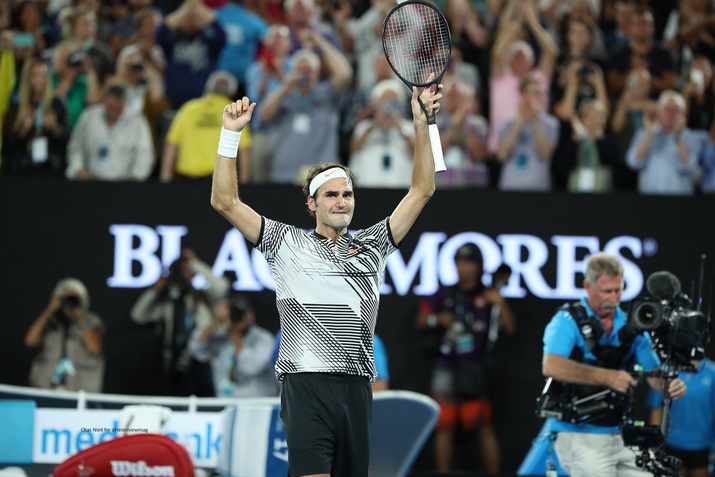 Highlighting his aggressive strategy, Federer finished the match with 73 winners to 57 unforced errors and limited Nadal to just 35 winners. He, also, fired 20 aces and won 76 percent of his first serve points.
An always classy Federer addressed the Rod Laver arena crowd and Nadal afterward, "I'm out of words," he said. "I'd like to congratulate Rafa on an amazing comeback. I don't think we both - either one of us - believed we would be in the finals in Australia when we saw each other at your academy sort of four, five months ago, here we stand in the finals. I'm happy for you. I would have been happy to lose too, to be honest. My comeback was perfect as it was. He continued, "Tennis is a tough sport. There's no draws but, if there was going to be one, I would have been very happy to accept a draw tonight and share it with Rafa, really."
It was Federer's 100th Australian Open match and his 28th major final. The win gave him 18 career grand slam titles, four more than Nadal and Pete Sampras.
The Mallorca native gave his views after the match, "I worked very hard to get where I am," said Nadal. "I fight a lot, probably Roger deserved it a little bit more than me. I'm just going to keep trying. I feel I am back at a very high level."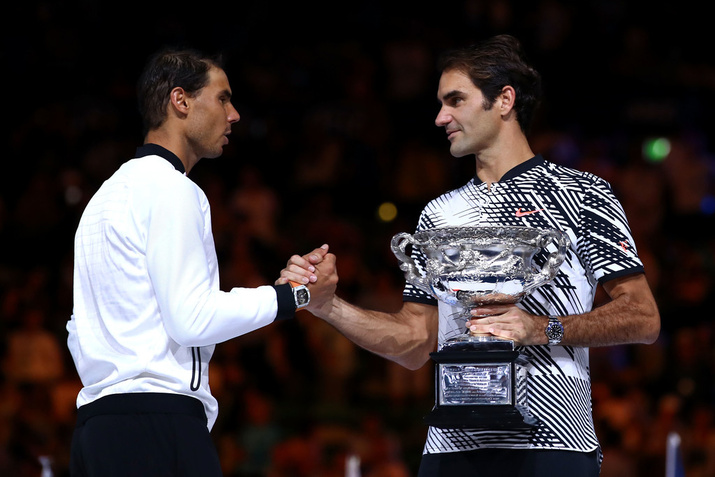 There is a reason for optimism for Nadal, as he acknowledged that he is back to full strength. And with Roland Garros being the next major tournament, the "King of Clay" likes his chances on the red clay. "On clay, I recover better than here, then the opponents don't get that many free points, and I am playing solid from the baseline. If I make that happen, I think I can keep having success in hard courts, but on clay can be special."
2017 certainly got off to a great start for the tennis world and if this tournament is any indication of what is to come, it should be a highly compelling season.
Teaser Image: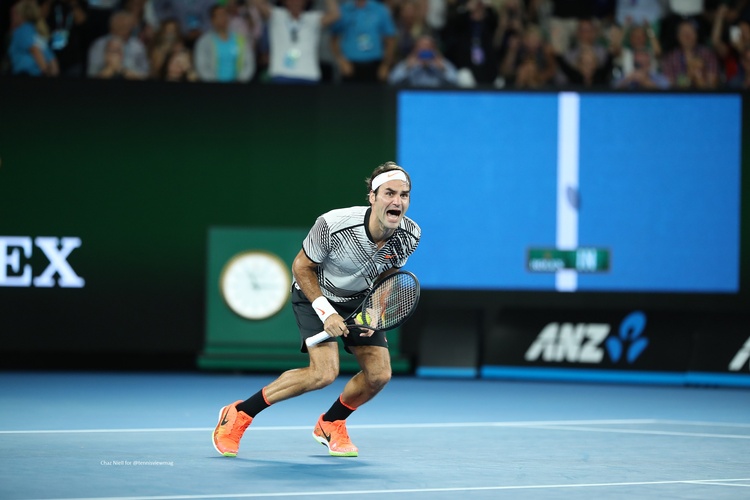 Inline Images: