Another amazing two weeks at the "Happy Slam" saw Novak Djokovic once again defeat his rival Andy Murray for his sixth Australian Open crown, tying the record of legend Roy Emerson. This was also Djokovic's 11th Grand Slam win, tying him with Bjorn Borg and Rod Laver. Let's take a look at some of the memorable men's matches before the final.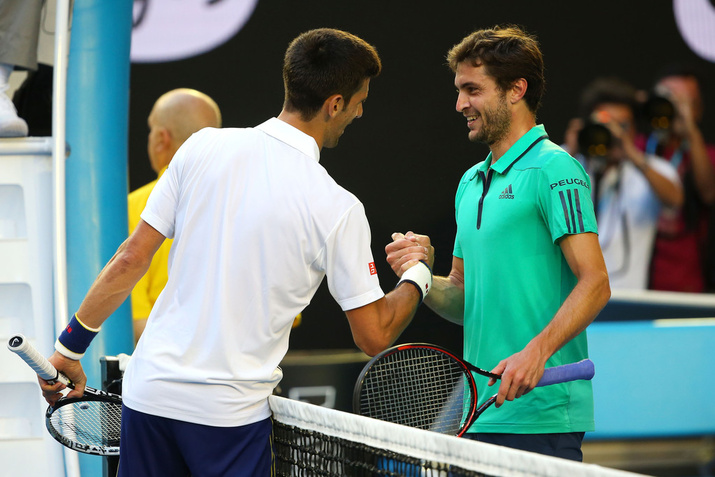 5. Novak Djokovic def. Gilles Simon 6-3 6-7 6-4 4-6 6-3
This match proved to be the match to forget for the world No. 1 as he battled himself as well as a relentless and experienced player. Djokovic played poorly throughout the match and was made to work for a memorable four-hour, 32-minute battle, prevailing in five sets. Djokovic made an astonishing 100 unforced errors and still managed to come through, despite playing his worst tennis. Simon, the underrated Frenchman, had his tactics clear from the start, engaging the Serb in a tough baseline battle. He kept throwing off his opponent's rhythm through flat low balls with very little pace, creating angles from the back of the court and forcing Djokovic to slice and finish the points quickly.
This was a strategy that gave the world No. 1 a lot of trouble. Simon played to his strengths as a defensive pace-absorbing baseliner who was relentless in frustrating Djokovic. After Djokovic took the first set, Simon began to fight his way back in the match, playing an extremely solid second-set tiebreak. This included a 26-shot rally that saw him hit an incredible backhand winner, leaving Djokovic stunned. As the match went on to the the third set, the quality of play continued to disappoint as both players made routine errors off the wing, and it became more of a mental battle. More of the same continued in the fourth set, with Simon sending it into a decider and forcing a fifth set. As Djokovic started to loosen up, he went up 5-1 in the fifth set before failing to close out the match and making his 100th error, a record in itself.
Eventually, a clean backhand winner from the Serb ended Simon's hope for an upset. This was ultimately the match that gave Djokovic the most confidence, knowing he could win playing this poorly and still finding the belief to overcome his worst self. Djokovic once again showed his vulnerability and his weak side, only to regroup like a champion to win the whole tournament.
4. David Ferrer def. Lleyton Hewitt 6-2 6-4 6-4
This match marked the end of the amazing 20-year career of a champion who gained the hearts of many during a long, grueling, tough career marked by success as a youngster, including two major titles at the 2001 U. S. Open and the 2002 Wimbledon, in addition to winning two Davis Cup crowns and achieving the world No. 1 ranking at the age of 20. This match marked a career ended on Hewitt's own terms, playing in front of his home crowd against a player who resembles his work ethic. Hewitt is a player whose ability to put in everything in each match, each time he came out on court, separated him from other players. He won a remarkable 600-plus matches during his career, including winning 30 ATP titles.
In terms of this second-round match itself, he was playing against a more in-form player who punished his slow start. Nonetheless, Hewitt was able to give it his all and make a two-and-a-half-hour battle out of it, as he gave his last goodbyes to Rod Laver Arena. He was beaten by a top-eight player, who was simply better and more consistent in finding an extra gear in important moments in the match. However, Hewitt will be a player to remember for his grit, passion, and the drive to win purely on work ethic and determination. This should serve as an incentive to the younger Aussie generation, who possess the talent to achieve big things.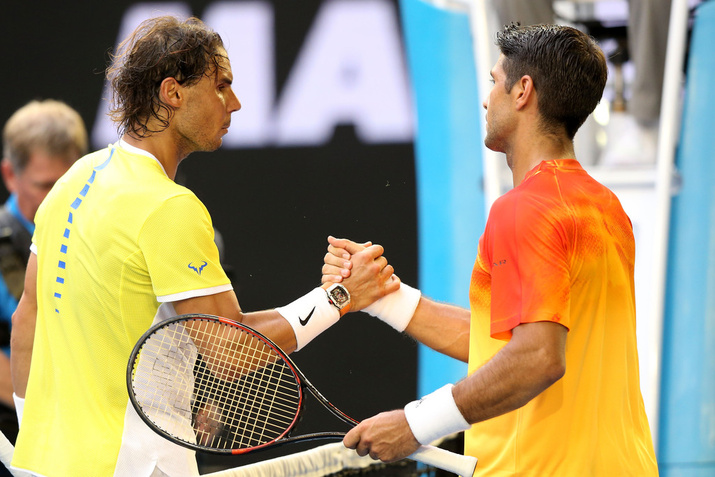 3. Fernando Verdasco def. Rafael Nadal 7-6 4-6 3-6 7-6 6-2
Nadal fell early in a major for the third time in a row, losing to a dangerous and streaky opponent who was not intimidated by the success of his countryman. Nadal was coming off a bitter 2015 with some positive moments in the indoor season. However, vulnerabilities in his game continued to linger when facing a hard-hitting, go-for-all opponent with nothing to lose. This, combined with the time the opponent had to go for his shots, made a big difference against Nadal. Verdasco hit a total of 90 winners, each with unbelievable power on the run, putting all of his upper body into each shot. This continued through the entire match, as he hit the ball incredibly close to the lines. Verdasco out-hit Nadal, knowing all too well that he couldn't out-rally him. He also took advantage of Nadal's weak second serve. However, Verdasco hit 91 unforced errors, which shows his upside and downside as well.
The first set lived up to expectations, heading to a tiebreak with Nadal having chances to win it, but Verdasco played some unbelievable forehands. In the second set, Nadal was able to capitalize, seizing control of a break thanks to some Verdasco errors. It seemed like the match was changing, with Nadal's confidence growing as he won the next two sets 6-4 6-3 in a consistent and a decent fashion, despite the occasional blip. As the match continued, though, Nadal began to hit the ball shorter, getting tight and losing confidence on his best shot, his forehand. He started to play defense, only to find himself getting overpowered.
Verdasco sent the match to a fifth set with his strategy of relentless attack, but Nadal immediately took advantage in the fifth set when Verdasco lost focus. Then, Nadal, leading 2-0, played a passive return game to give Verdasco some hope of staying alive. And this is where the match changed, as Verdasco went for broke, hitting corners and lines, and slapping winners, with Nadal left chasing the ball. It was an unbelievable last six games for Verdasco. We have to wonder what Nadal's future holds, since he was simply beaten by an opponent who gave him all kinds of trouble with his streaky but deadly play.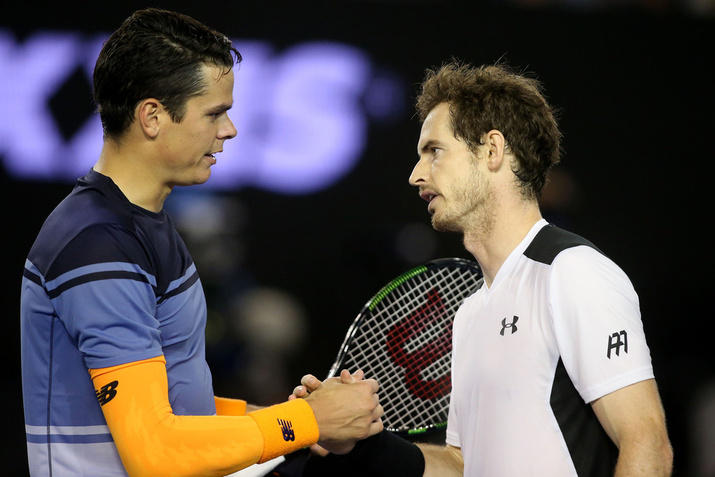 2. Andy Murray def. Milos Raonic 4-6 7-5 6-7 6-4 6-2
Raonic came into this tournament with overwhelming confidence, having improved all aspects of his game and become a real contender. He improved his consistency on the backhand side, his movement, and his return, and he was winning a high percentage of points at the net. His results showed this, for he was very impressive in beating Federer in the final of Brisbane, as well as backing it up with a great win against Wawrinka and the always-unpredictable Monfils in the quarterfinals.
Against Murray, a player whom he has beaten three times, Raonic was taking his game to a whole other level, playing excellent tennis for almost four sets. A quick break in the first set kept him ahead as he managed to dictate against Murray from the baseline and put constant pressure on his serve. While some incredible shot-making from Murray came, Raonic's reliable serve would never fail him. Although Murray won a tight second set, Raonic managed to play an excellent tiebreak in the third set, as he won it 7-4, only one set away from his first Grand Slam final. In the fourth set, Murray willed himself into the match, breaking Raonic at 3-3. However, Raonic was very much in it, as he gave himself break point chances to make it 4-4.
But suddenly Raonic pulled an abductor muscle, and it significantly affected his movement. Murray seized his opportunity, since the Canadian's serve speed slowed down as well as his movement. It was a disappointment as Raonic was nine points away from the finest victory of his career. Regardless, Murray won the match emphatically 6-2 in the fifth set after four hours and three minutes in a very physically taxing encounter.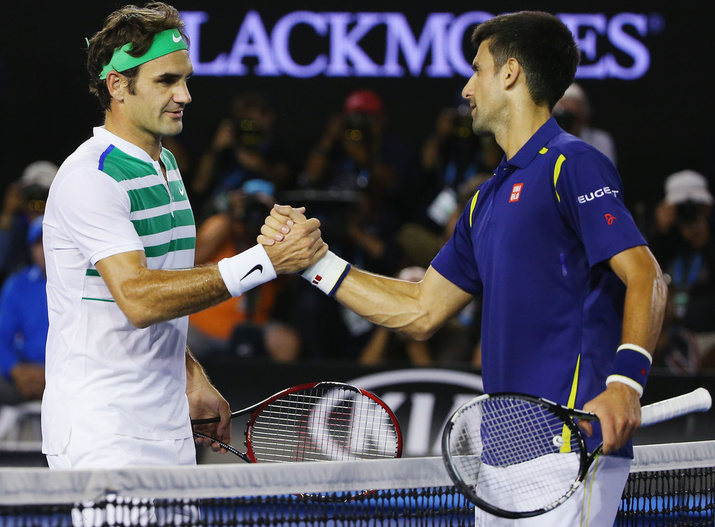 1. Djokovic def. Roger Federer 6-1 6-2 3-6 6-3
This has become a mouth-watering rivalry between two great champions who are similar in so many numbers and get the best out of each other. They were 22-22 going into their 45th meeting, with Djokovic leading 8-6 in majors, having beaten Federer in three Grand Slam finals in the last two years. This match proved to be different from their previous meetings as Djokovic was flawless from the first point to the last, dominating Federer to win the first two sets in just 54 minutes. Djokovic came out playing rock solid defense and offense, constantly attacking Federer's forehand and neutralizing all of Federer's attacks, as the Swiss seemed tense and nervous. Federer was playing a battle of defense, where he was always a step behind.
This time, it was Djokovic who was the frontrunner, dictating the play, winning easy points on his serve, and constantly pressuring Federer to go for another risky play. It was a player in his prime who showed just how far ahead he is. Despite a great third set from Federer, who stepped up his game while Djokovic maybe dropped his level a hair, there was no coming back for the world No. 3. After the first two sets, Federer surely knew, and so did everyone watching, that the more physical the match became and the more attrition was needed, the less likely Federer was to win. The fourth set, however, was close until the very end, when a point or two at 3-4 30-30 decided the match, and once again Djokovic played perhaps even better than Federer in his prime. Federer. This match showed how Djokovic has separated himself from the other elite players with a positive record against all four of his biggest challengers: Federer, Nadal, Murray, and Wawrinka.
Teaser Image: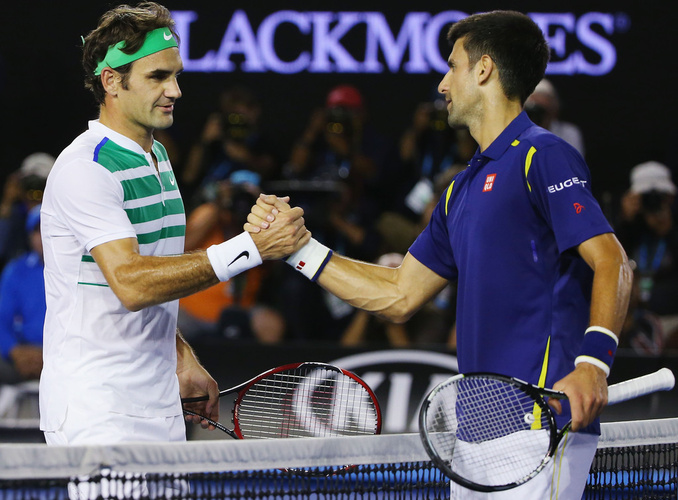 Inline Images: