Sunday's final showdown between Novak Djokovic and Roger Federer (their 42nd career meeting) capped an amazing two weeks of exciting matches at the US Open featuring the top stars. Djokovic eventually prevailed in four sets over his rival, giving him his 10th major and his third this year. Now it's time to take a look at the top five matches on the men's side at the Open before the final. Some of these results were surprising.
5. Benoit Paire d. Kei Nishikori 6-4 3-6 4-6 7-6 (6) 6-4
The talented and feisty Frenchman produced some of his best tennis to win the match of his life against a solid top-10 opponent. Nishikori had reached the finals last year by knocking out Milos Raonic, Stan Wawrinka, and then Djokovic. He was the No. 4 seed, expected to go all the way to the second week and reach at least the quarters or semis. However, Nishikori looked extremely tight, especially on his backhand side, and was a bit edgy trying to find the consistent form he has had all year. He dropped the first set, and the Frenchman was causing problems for him by playing high-risk power tennis.
Paire was going for big shots from the baseline with his backhand and his unpredictable drop shot. However, it looked like the Japanese star could fight his way out of the hole. He won the second and third sets relatively comfortably. Paire then played some of his best tennis to get the crowd going and pushed Nishikori to a fourth-set tiebreak. Nishikori went ahead 6-4 in the tiebreak but failed to close out the match after he missed a routine forehand and a couple of more tight shots. He eventually allowed Paire to get his teeth in the final set after he secured the crucial break with a return winner.
This was a huge upset on Day 1 at the U. S. Open and opened up the draw for the Frenchman as well as other talented unseeded players. However, even more astonishing was the fact that Nishikori had won four more points than his opponent (160-156). But he had only 37 unforced errors to 34 winners, while Paire finished with an outstanding 64 winners, playing courageous tennis at the big stages, and 67 unforced errors.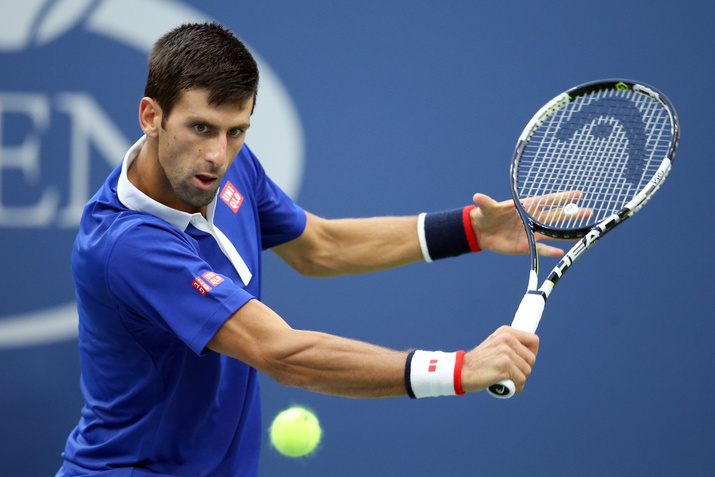 4. Novak Djokovic d. Roberto Bautista Agut 6-3 4-6 6-4 6-3
​This may seem like a routine win for Djokovic other than the loss of a set. However, the hard-hitting Spaniard, ranked No. 23 in the world, presented a lot of problems for the world No. 1, who needed three hours to get to the quarterfinals. Djokovic seemed to be cruising after taking the first set 6-3. He was up 4-2 in the second set and had break points to go up a double break and take control of the match. However, Bautista Agut came to play and eventually got the crowd behind him, as he demonstrated his court coverage and chased down every one of Djokovic's cleanly hit groundstrokes before turning them into an attack with his forehand. When he had time, he whacked clean winners from five feet behind the baseline. It is unusual for any player to have that kind of margin on groundstrokes against a player like Djokovic, who defends so well.
Bautista Agut rattled Djokovic, breaking him twice and evening the match at a set apiece. He continued to show his fast footwork, playing entertaining cat and mouse exchanges with Djokovic and daring him to come in and pass him. However, Djokovic, as mentally strong as he is, capitalized on his second break point chance at 3-3 and closed out the set.
Djokovic quickly broke at the start of the fourth set but as the match seemed to be over, Bautista Agut started putting up a good fight. He stretched Novak all around the court and was able to break his serve two more times in the set. However, Djokovic emphatically closed out the match in the end.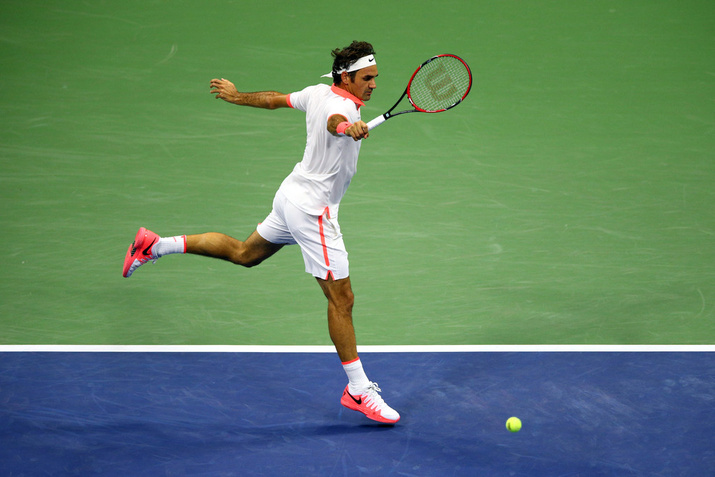 3. Roger Federer d. John Isner 7-6 (0) 7-6 (6) 7-5
​There weren't too many surprises in this match. The score line makes the match look very close. However, Federer was able to find an answer quite frequently against one of the best servers on the tour. He created 10 break point opportunities on Isner's serve, only being able to convert one of them late in the third set, which was all he needed. In the first-set tiebreak, Federer gave nothing to Isner, who has an incredible tiebreak record. He thrashed the American 7-0 in the tiebreak, giving him his first ever tiebreak bagel.
Isner was able to get to 0-40 on one of Federer's service games in the second set but couldn't convert as Federer served well under pressure and hit his spots. Isner also had a great chance in the second-set tiebreak when he was up 5-3 and a mini-break. But Federer imposed the best of his variety and it proved to be too much. Isner had blown his best chance to get back as he watched Federer hit an incredible backhand to give him a two-set lead. Regardless of the match being about serving and returning and the expected result, it was still an entertaining match that had the potential of going the distance, given how good Isner's serve is. Federer finished the match with 15 aces, two fewer than Isner, and won over 83% of points on his first serve as well as 72% on his second serve. Overall, it showed Federer's all-round game in the big moments, which paid off against a dangerous player like Isner.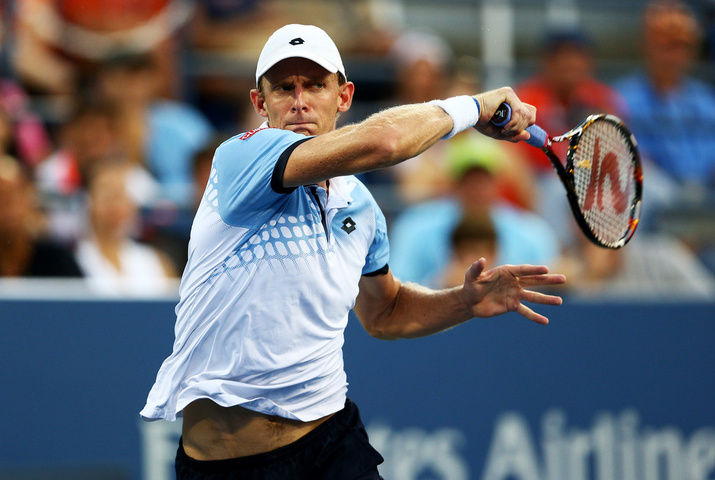 2. Kevin Anderson d. Andy Murray 7-6 (5) 6-3 6-7(2) 7-6 (0)
​This was a victory that was a long time coming for the 6'8" South African, who was looking to reach the quarterfinals of a major for the first time. He had been playing the tennis of his life, pushing Djokovic to the brink at Wimbledon and then winning in Winston-Salem before defeating a familiar top-four opponent, Andy Murray, in the tournament's longest and most exciting match. Anderson found a way to serve consistently well under pressure, getting himself out of trouble in the first set. It came down to one or two points in the first-set tiebreak, but it was Anderson who took the advantage. At 6-5 in the tiebreak, Anderson belted a 100 mph forehand winner in the corner to win the first set.
He carried that momentum into the second set as he continued to go after the Murray second serve. Anderson took huge strikes to move Murray around the court and found his way to the net, where he was winning a majority of the points. He found a way to neutralize the rallies from the baseline and pound on every short ball that Andy gave.
Anderson mounted as much pressure as he could in the third set, breaking Murray's serve. However, Murray crawled back with the energy of the crowd and willed himself to force a fourth set, which was toe to toe with neither player facing a break point on serve. Anderson played the tiebreak of his life as Murray looked tired and deflated and wasn't able to dictate at any stage, failing to win a point. This was the first time in 19 majors that Murray did not reach at least the quarterfinals.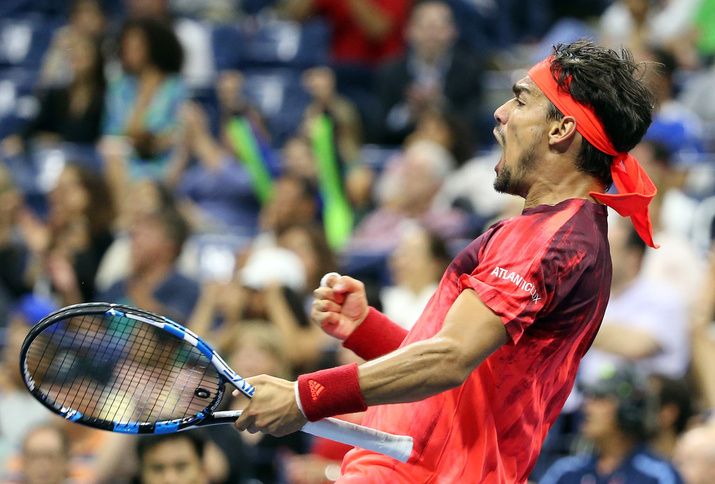 1. Fabio Fognini d. Rafael Nadal 3-6 4-6 6-4 6-3 6-4
This year has seen Rafael Nadal slip in confidence and struggle to find his best game. Based on current form, it was a tough ask for him to get past Fognini without any struggle because he had lost to him twice earlier this year on his preferred surface: clay. However, there is no doubt Fognini was playing out of his skin and was extremely dialed-in, playing fearless tennis.
Nadal was not doing enough damage with his forehand, and it was letting him down as he made routine errors and hesitated on the crucial points. That allowed Fognini to attack the corners and pin Nadal back. Fognini hit an astonishing 70 winners in the match and was able to win 63% of the points on Nadal's second serve. Even though Nadal was up two sets to love, his level dropped and he started playing too passively, allowing Fognini to take control of the rallies and attack Nadal's weak second serve. This earned him the third set as well as the fourth set. Fognini didn't have much trouble closing out the match in the fifth set, winning 6-4. This match was another battle of nerves for Nadal, as he has been saying after his losses this year. His inability to build on his positive moments in a match has given his opponents tremendous belief to beat him, and for the first time in 152 matches he had lost after being up two sets to love.
Teaser Image: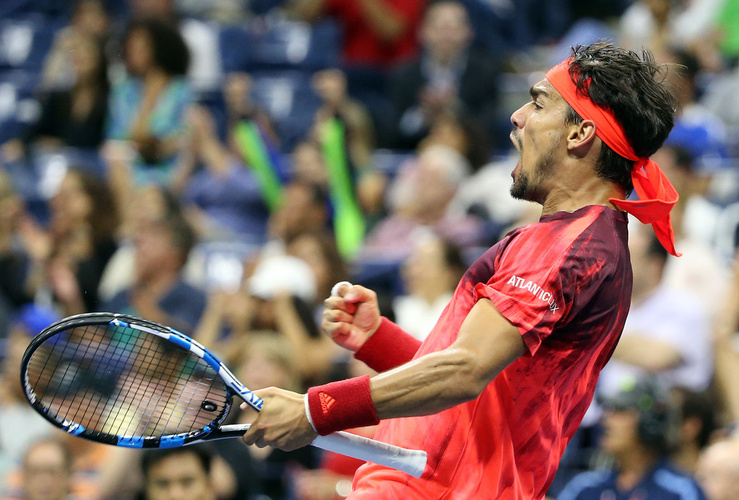 Inline Images: