These were the most memorable, unpredictable, and highest-quality men's matches at Wimbledon before the mouth-watering final showdown on Sunday between Novak Djokovic and Roger Federer, a rematch of last year's final.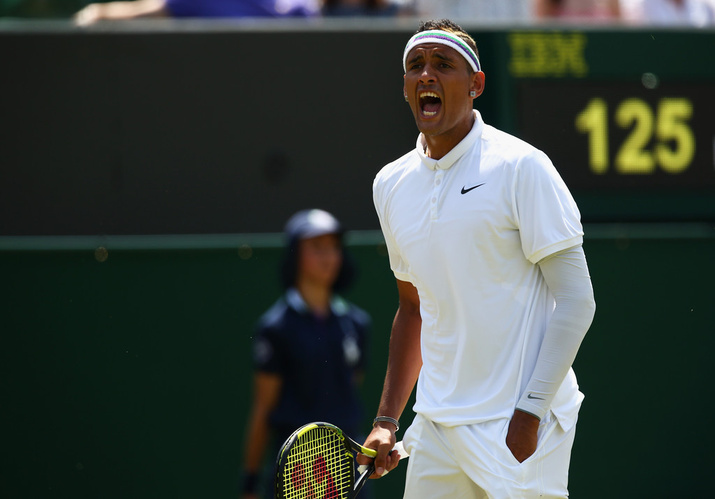 5) Third Round: Nick Kyrgios d. Milos Raonic 5-7 7-5 7-6 6-3
Nick Kyrgios delivered an amazing performance while finding the right balance between ''having fun" and staying focused. He played like a man who has the belief he can beat anyone and is never scared to take his chances. Kyrgios made headlines this year for his behavior on court, which some deem is unacceptable. During this third-round match, for example, he threw his racquet into the crowd and received a code violation. Although he is able to find the right balance and pull of unexpected victories, which is good for the game of tennis, his emotions often get the better of him in important matches, just as they did in his next match against Richard Gasquet.
However, Kyrgios played extremely well against Raonic, who got the better of him last year in the quarterfinals after he had stunned Nadal in the fourth round. He served extremely well and played brave, aggressive tennis. He hit 34 aces to only 18 for Raonic. On the important points, Kyrgios attacked Raonic's weak two-handed backhand and forced a lot of errors off that wing. He hit some impressive passing shots and put a lot of pressure on the Canadian's serve, which is very tough to do. In all, Kyrgios hit 61 winners and 13 unforced errors. This was a compelling match to watch, and a lot could certainly be learned as a junior.
4) Quarterfinal: Richard Gasquet d. Stan Wawrink 6-4 4-6 3-6 6-4 11-9
This was an entertaining match-up featuring two players who have sensational single-handed backhands. Gasquet loves playing on grass, and French Open champion Wawrinka looked pretty comfortable at this tournament before this match. Gasquet showed excellent composure and is back to his peak since his best year in 2007, when he reached the semifinals at Wimbledon. He certainly was fresher in the end and made very few mistakes and shocked Wawrinka, whom many expected would face Djokovic in an epic semifinal duel.
However, grass has never been Stan's most comfortable surface, and his backhand wasn't as hot in the match as it usually is. He takes a huge swing, and the ball bounce is lower on grass, making Wawrinka's backhand not as powerful. Credit to Gasquet who fought his way through. He served his spots well, winning 74% of points on his first serve. Gasquet also did an excellent job winning the rallies and putting pressure on Wawrinka's serve, while winning a good percentage of points at the net. Wawrinka committed 48 unforced errors to only 24 for Gasquet, which proved to be a big difference. Although Wawrinka wasn't at his best, it was a great win for the talented Frenchman, making it through to his third major semifinal.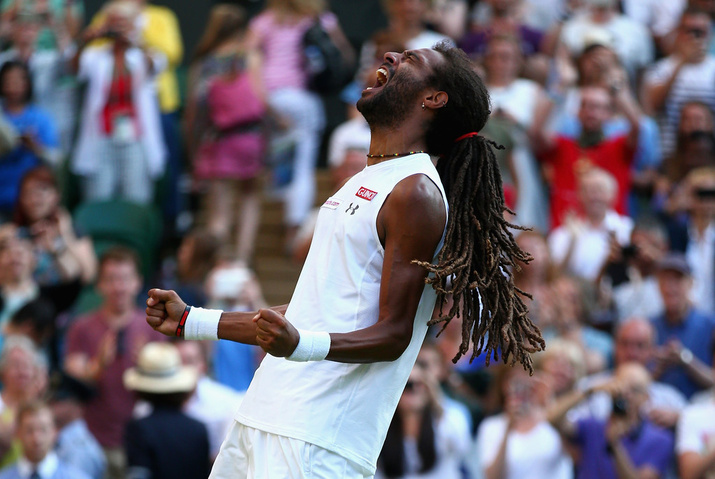 3) Second Round: Dustin Brown d. Rafael Nadal 7-5 3-6 6-4 6-4
For the fourth time since 2012, Nadal lost to a player outside the top 100 at Wimbledon before the quarterfinals. To me, while this match was a major upset, it wasn't too surprising given Nadal's dip in confidence and form this year. Dustin Brown is a player who doesn't win too many matches but goes all out on grass. He is now 2-0 against Nadal, with his first win last year in Halle when he played Rafa three days after he had lifted his ninth French Open title. This time, he had the same game plan.
It was a very entertaining match to watch. Brown was playing to his strengths at the net. He won 49 out of 85 points there, coming in almost every point. He beat Nadal by hitting slice approaches, serving huge in important moments, and causing Nadal to think about his return position. He hit drop shots, slices, and huge second serves above 120 M. P. H. Meanwhile, Nadal hasn't played close to his best tennis even though he is injury-free. His forehand was short too often, and his second serves were very vulnerable. Brown shortened the points, giving Nadal almost zero rhythm except in the second set. They had an average of 2.7 shots per point. Nadal often had easy shots to put away in the middle of the court on his forehand, and he too often missed them, hitting them wide. Nadal may benefit from a long break and some time to change things for the U. S. Open Series.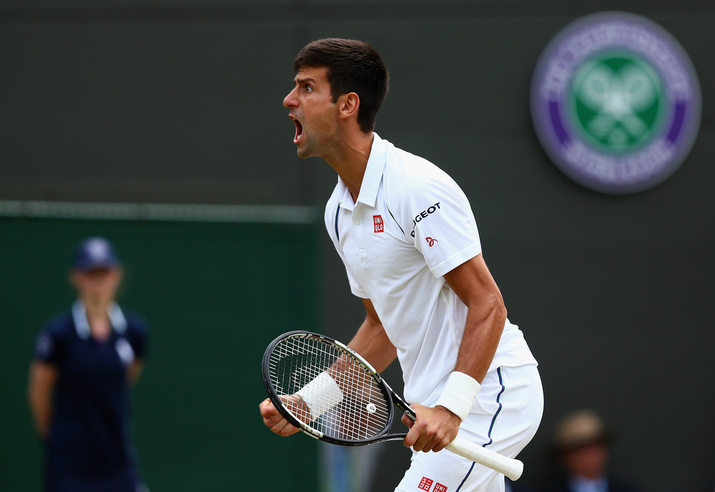 2) Fourth Round: Novak Djokovic d. Kevin Anderson 6-7 (6-8) 6-7 (6-8) 6-1 6-4 7-5
Anderson played the best match of his life. He was hitting harder than ever, moving better than ever, and serving with amazing power and accuracy. However, it still was't enough. Djokovic survived a huge test and called it one of the "most difficult matches I had to play at Wimbledon." He lost the first two sets in tiebreakers as Anderson was serving beautifully, mixing it up well. It was very tough for the best returner in the game to read his serve. Anderson hit a staggering 40 aces and won 83% of points on his first serve. He also hit 73 winners to Djokovic's 43.
Anderson was on the verge of a victory that could change his whole career. However, he ran out of gas in the third set as Djokovic won 6-1 in 23 minutes. The second set was a little tougher, and as soon as it was two sets each, the match was suspended due to darkness. This was helpful for Anderson because he could now regroup and have some time and break Novak's momentum. The next day, Djokovic had to be at his absolute best, and he certainly was. He broke Anderson at 5-5 in the fifth, thanks to two double faults, and served his way to victory, playing for 40 minutes on the second day. Maybe Anderson now has the belief to go toe-to-toe with the top players.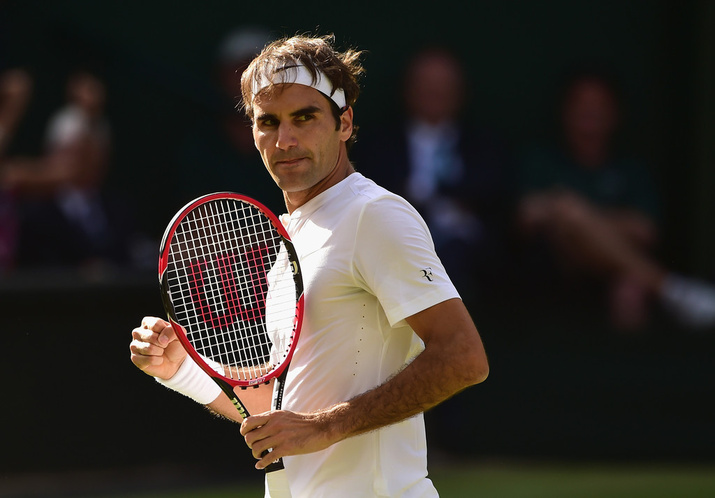 1) Semifinals: Roger Federer d. Andy Murray 7-5 7-5 6-4
This was the much anticipated and much hyped match featuring two players who are arguably playing their best tennis currently. Roger Federer had only had his serve broken once the whole tournament so far, and Murray had been playing very well with little hiccups against Karlovic and Seppi. Roger played "one of the best matches of his career," according to experts. He shocked the tennis world by annihilating Murray on his serve, winning 84% of points on his first serve along with hitting 20 aces. Federer also hit 56 winners, making only 11 unforced errors. Murray played a great match too and should have no regrets. This looked very much like a Federer who is defying age.
At one point, Federer was up 7-5 5-4 and had five set points for a two-set lead, only to have all of them saved by a fighting Murray. It looked as if Murray was playing well enough to beat almost everyone except Federer. He played a 15-minute game to hold serve, forcing the pressure right back on Federer. What did the calm champion do? He played a one-minute service game to hold and then broke the next game and was in firm control of the match. In the third set, he was near flawless, making only one unforced error. This looked a lot like Federer in his prime. Murray had nothing but appreciation for him. It was a sublime performance that certainly makes him the favorite against Djokovic in the final. Novak will have to produce an exceptional effort, since Federer is now one match away from his 18th Grand Slam title.
Teaser Image: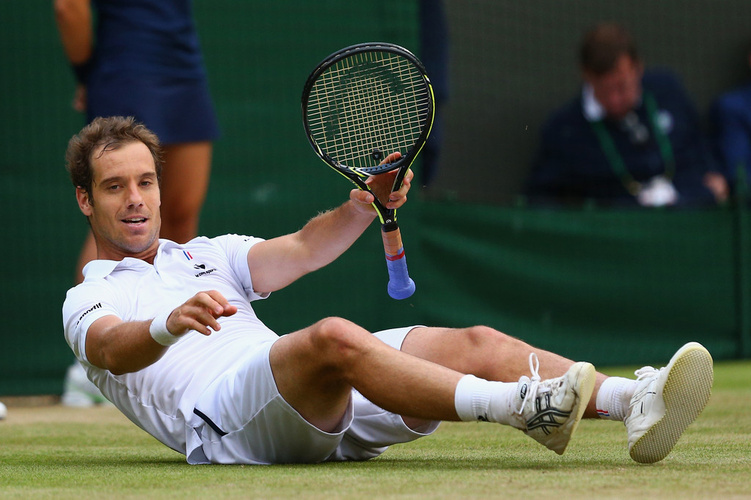 Inline Images: