The first week of Wimbledon has come to an end. Rafael Nadal lost to a player outside the top 100 at Wimbledon for the fourth straight year, which opens the door for unseeded players who now have a chance to reach their first major quarterfinal. Other top players like Milos Raonic and Grigor Dimitrov, semifinalists at Wimbledon last year, experienced tough losses to talented players such as Richard Gasquet and young gun Nick Kyrgios. Then there was the big-serving Ivo Karlovic, who knocked out Jo-Wilfried Tsonga in four tight sets, winning all three sets in crucial tiebreakers. With the round of 16 matches in the second week, here are my predictions: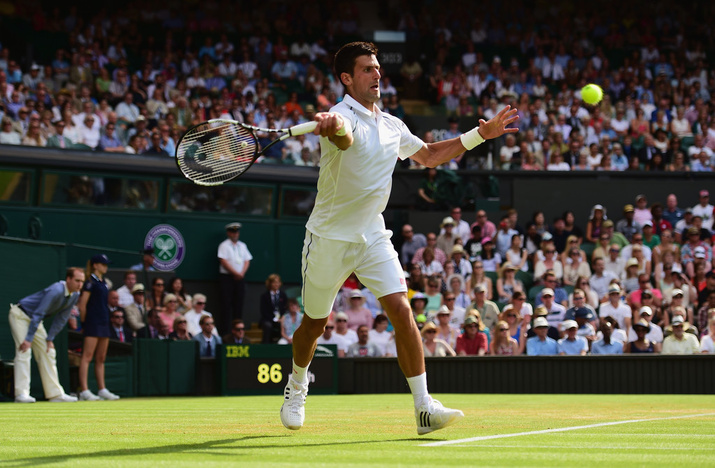 Kevin Anderson (14) vs. Novak Djokovic (1)
Kevin Anderson is currently playing the best tennis of his career. However, It won't be enough to stop the stellar Novak Djokovic. Anderson is coming off a finals run in Queens, where he lost to Andy Murray. He is a consistent player who usually reaches this stage in majors but only has a 14% winning record against top-10 players in majors and non-majors. He has a huge serve but will need to serve smart and pick the right spots. Anderson is also going to have to try to play aggressive from the baseline and return well. He will have to convert every break point chance he gets on the Djokovic serve and take some risks on the second-serve returns. Djokovic will win, but it could be close if Anderson believes in his chances and take the opportunities as they come. Unfortunately for him, he has to play out of his skin. At the moment, I don't see anyone in the top half of the draw stopping Djokovic from reaching the last four at least.
Prediction: Djokovic in straight sets
Marin Cilic (9) vs. Denis Kudla
Cilic, the reigning U. S. Open champion, is steadily getting back to his top form and is gaining confidence each day he plays. He is a very dangerous player, particularly on fast surfaces like here at Wimbledon. He has improved his serve and his baseline game and gets easy power in his strokes. He just came off a long haul in his third-round match with John Isner, defeating him in four and a half hours by 12-10 in the fifth set. Denis Kudla is also playing the best tennis of his life, reaching the round of 16 for the first time in his career. He is the only American man still alive in the tournament. He has played some long hard-fought matches prior to this, including a tough five-setter against Giraldo. He also beat up-coming star Alexander Zverev in four sets. The American definitely likes the grass, and it suits his game. However, Cilic is slowly getting back to his best and if he is serving big and hitting well, the American doesn't have much of a chance.
Prediction: Cilic in four sets
Stan Wawrinka (4) vs. David Goffin (16)
Stan Wawrinka has been cruising without any trouble so far. He is probably the hottest player on the tour in the last month. He won the French Open and showed everyone what he is capable of. However, let's not underestimate his opponent. Goffin is a 24-year-old from Belgium who is underrated because of his short height. However, he has a great two-handed backhand (Nishikori-like) and, although grass isn't his best surface, he can still cause some problems from the baseline and doesn't miss too much. This matchup, however, does not favor him. Wawrinka is a more aggressive baseline player who mixes up his backhand and forehand and covers the court much better with his variety.
Prediction: Wawrinka in straight sets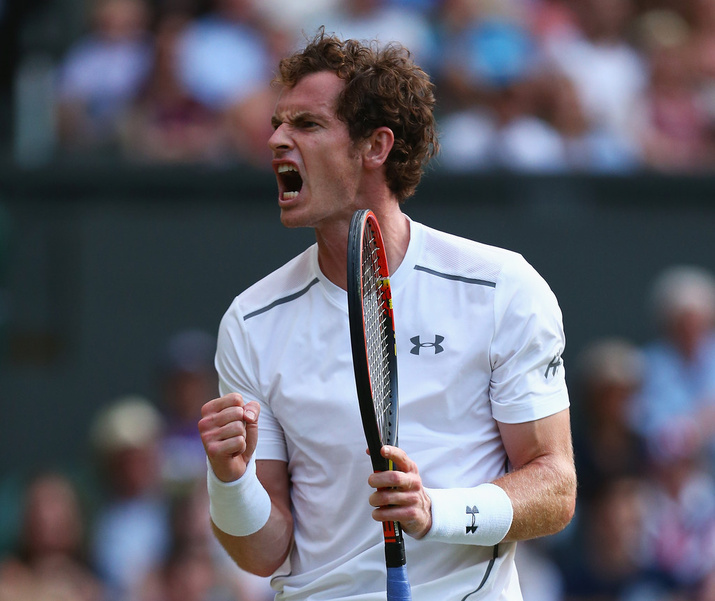 Ivo Karlovic (23) vs. Andy Murray (3)
Karlovic is quite something these days at 36 years old. His serve is definitely one of the best in the world. He averages almost two aces a game. He can also play well at the net and likes to come in on his forehand, which can stay very low on the grass. However, Murray's game is built for withstanding defense and putting constant pressure on big servers. His return game is spot on and that would make it extremely tough for Ivo. However, Karlovic just needs to win three tiebreaks as he did against Tsonga. He will need to take his chances on the return and not let Murray get into his own service games. I believe Ivo will make it very tough, but Murray will reach the quarterfinals.
Prediction: Murray in four tight sets
Roger Federer (2) vs. Roberto Bautista Agut (20)
This is a great-match up for Federer, since he can use his beautiful serving stats and his all-round game to his advantage. Bautista Agut has become a consistent top-20 player who can beat players below him in the rankings. His best surface isn't grass, and he doesn't exactly have the best results on this surface. Federer will reach one step closer to his 18th Grand Slam title.
Prediction: Federer in straight sets
Tomas Berdych (6) vs. Gilles Simon (12)
This is not at all an easy match for the big-hitting Berdych. Simon has the ability to fight through matches and uses his opponent's pace extremely well. He is one of the best pace-absorbers in the game, second to David Ferrer. Simon leads Berdych head to head 6-4 and can give him a lot of off-speed pitches, getting many balls back into play and thus neutralizing the baseline rallies. This was very evident in his third-round match, when he defeated Monfils in five sets. I certainly expect this match to go the distance and potentially cause an upset for the No. 6 seed.
Prediction: Simon in five sets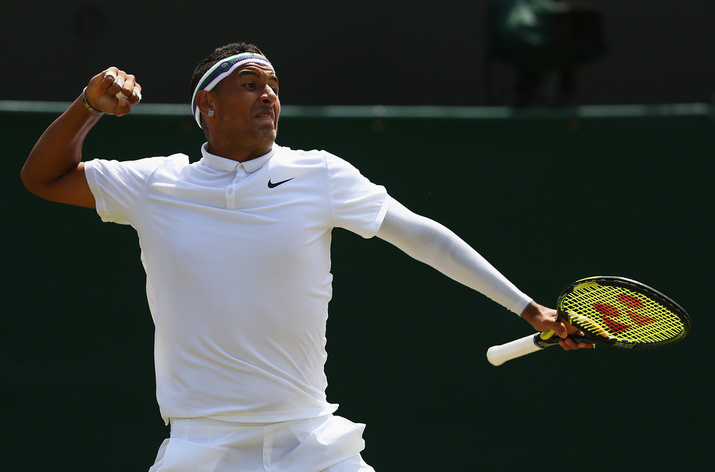 Richard Gasquet (21) vs. Nick Kyrgios (26)
This was a match last year that Kyrgios won coming back from two sets down and saving all nine match points that he faced to cause a major upset in the third round. I think Kyrgios is a much more experienced player now. He has been improving and brings everything to the court. But he needs to watch out because Gasquet is certainly a very tough opponent who just took out Grigor Dimitrov in straight sets. I think if Nick goes out there and stays mentally focused and finds the right balance with the crowd, he can keep rolling. This is what he did very well against Milos Raonic in the third round. He also serves very well. and it gets him out of trouble, just as it did last year in this same matchup. It will be a difficult match for him, but he is a young gun who is the biggest dark horse of Wimbledon 2015.
Prediction: Kyrgios in four tight sets
Viktor Troicki (22) vs. Vasek Pospisil
This is an unexpected match-up of the underdogs. Both of these men have a chance to reach the last eight in the Murray quarter. Pospisil plays well on grass and is coming off a great win over James Ward, a crowd favorite. He has excellent hands at the net and serves big enough to get out of trouble. However, Pospisil lacks the consistency needed to reach the last eight of a major, and Troicki is flying under the radar, playing great on the grass and reaching the Stuttgart final after beating Marin Cilic. He also reached the semifinals in Queens after beating Cilic for the second time. Troicki played a solid match against the unpredictable Dustin Brown, serving very well and dictating with his first serve. He won 73/85 points on his first serve, including 24 aces. This is a great chance for both these men to make a breakthrough, but I have to give Troicki an edge.
Prediction: Troicki in four sets
Teaser Image: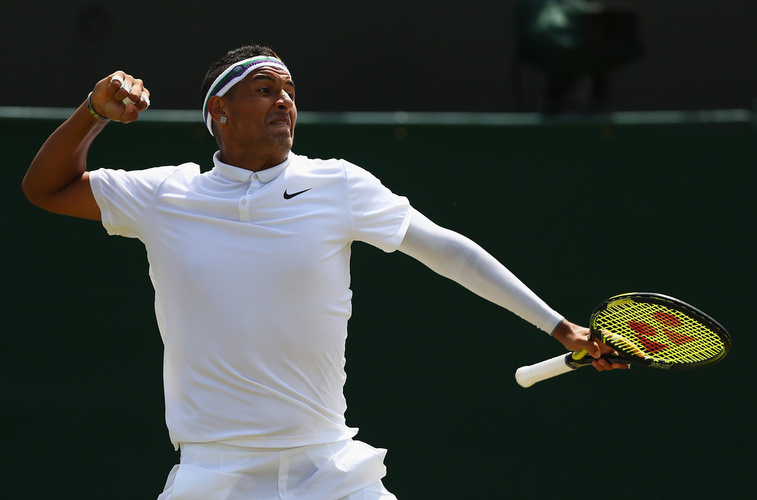 Inline Images: