The French Open this year was full of surprises and amazing upsets. Apart from the final, where the perpetually under-rated eighth seed Stan Wawrinka stunned the world's No. 1 player, Novak Djokovic, there were several other entertaining and fascinating matches. Here are the top five most memorable matches in the tournament. These matches didn't always have a predictable scoreline.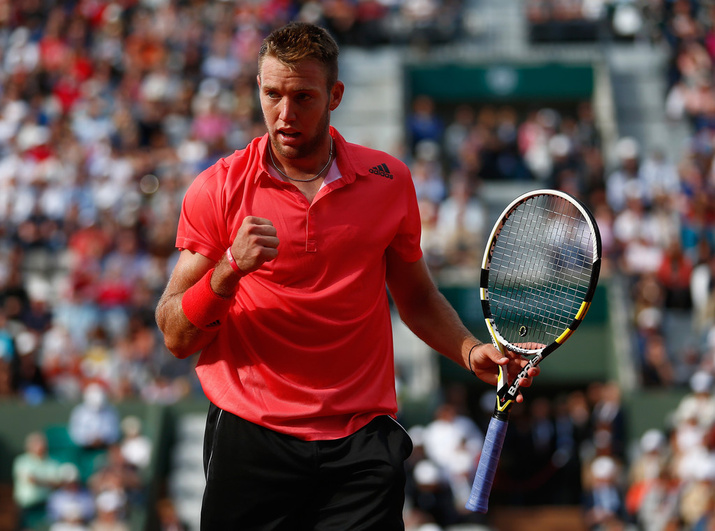 5) Jack Sock d. Grigor Dimitrov (10) 7-6(7) 6-2 6-3
The future American star shocked the tennis world on Day 3 of the French Open with his amazing win over the No. 10 seed, Grigor Dimitrov, nicknamed Baby Federer. This win was only the American's 14th win on clay. Sock has always been regarded as the future Andy Roddick, a player with a penetrating serve and a potentially lethal forehand that can kick up very high on clay. He showed his talent on clay earlier this year by beating Kevin Anderson in April in the U. S. Men's Clay Court Championship to win his first ATP title.
It was an impressive performance from the world No. 37 against the Bulgarian. Sock won about 81% of his points on his first serve and tactically put Dimitrov in an uncomfortable position on the return. He also did an extremely good job matching the Bulgarian's superior speed and footwork. He hit 30 winners and only made a total of 18 unforced errors. Many regard Sock's forehand to be extremely tough to handle on clay, due to his heavy topspin reaching up to 3,000  R. P. M. He attacked Dimitrov's one-handed backhand, which can be vulnerable when he is pushed back five feet from the baseline.
The first set lived up to expectations in reaching a tiebreak, where clutch serving became the determining factor. Sock proved to be too much for the No. 10 seed after winning the 1st set tiebreaker 9-7. He went on to break Dimitrov's serve twice in the second set while forcing errors from the Bulgarian's racquet. Before Sock could blink, a poor service game at 0-1 from Dimitrov in the third set gave Sock another break, where he was now in firm control of the match. Dimitrov has lacked the authority at times this year to live up to expectations from last year. We have seen him lose sets to Fabio Fognini and Ryan Harrison 6-0, as well as a lot of tough three-setters that have gone the distance.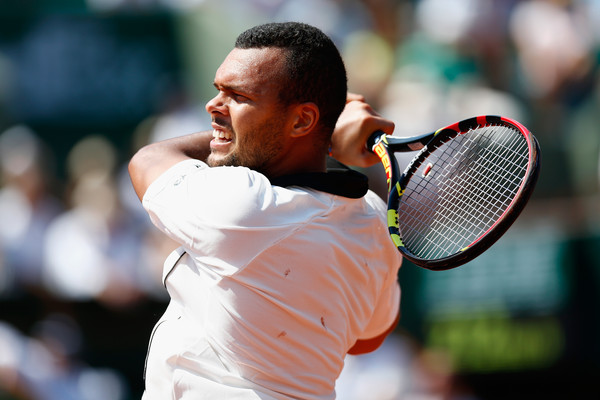 4) Jo-Wilfried Tsonga (14) d. Tomas Berdych (4) 6-3 6-2 6-7(5) 6-3
This was an amazing win for Jo. The crowd was all for him in this match, and it showed the French crowd he is back to form. He used the crowd to his advantage and hit big shots off his forehand to open up the court. In this whole match against Berdych, Tsonga employed his fearless tactic of dictating points with his serve and attacking Berdych's backhand.
Berdych has been a consistent player this season, reaching at least the quarterfinals of every tournament he has played. Yet Tsonga looked incredibly comfortable as he won the first two sets with ease. Berdych began to pick up his level slowly until Tsonga played a fantastic game at 2-2 in the third set, breaking the Czech's serve. Although Berdych's game seemed off, Tsonga was playing his best match in a long time. Suddenly, he was up a break serving for the match at 5-4. Nerves became a major factor, as Tsonga came under pressure and Berdych hit a beautiful backhand down the line to get back in the match. The Czech stole the tiebreak 7-5 thanks to some Tsonga forehand misses, and Tsonga looked fatigued mentally at this point.
Berdych then broke Tsonga in the third game of the fourth set, but the Frenchman was not finished. He faced a break point for Berdych to go up a double break. But then Tsonga hit a powerful kick serve and held easily. He again started playing his usual aggressive style, pumping himself up and the crowd in Paris to break back for 3-3. He then broke Berdych in a tight eighth game, and now all those unforced errors from Tsonga's racquet 10 minutes before seemed to disappear. He closed the match out with an easy service game for an unexpected victory.
3) Jo-Wilfried Tsonga (14) d. Kei Nishikori (5) 6-1 6-4 4-6 3-6 6-3
Most were expecting Kei Nishikori to reach at least the semifinals, if not have a shot at the title. The Japanese player, who is being coached by Michael Chang, has shocked the whole tennis world and has consistently been a serious contender everywhere he has played over the course of a year and a half. He always had the talent but lacked the self-belief in himself, and that is what Michael Chang has added. Nishikori also had a 4-1 head to head record against Tsonga.
However, the key for Tsonga was to serve well and take huge swings off his groundstrokes, pushing Nishikori behind the baseline. He also needed to remember that Kei struggles against big servers and has a first serve about 20 M. P.H slower than Jo. This is exactly what Tsonga did in the entire first set as well as most of the second set. He broke Nishikori's serve three times in the opening set and lost an incredible three points on his first serve.
Tsonga was up two sets at the time that a scoreboard came loose and flew into the audience, which caused the players to leave the court for 20 minutes. Nishikori was a different player after the pause. He got one of the breaks back, and Tsonga suddenly wasn't as comfortable. Just like the match with Berdych, Tsonga couldn't keep this level of intensity. He wasn't moving well, and a lot of unforced errors started creeping in this game. Nishikori took advantage and was back on even terms at two sets all. However, Tsonga played some courageous tennis to break Nishikori's serve at 2-3 in the fifth. He served out the match at love. It was a disappointing loss for Nishikori, but it was still an amazing effort by him to find a way to level the match.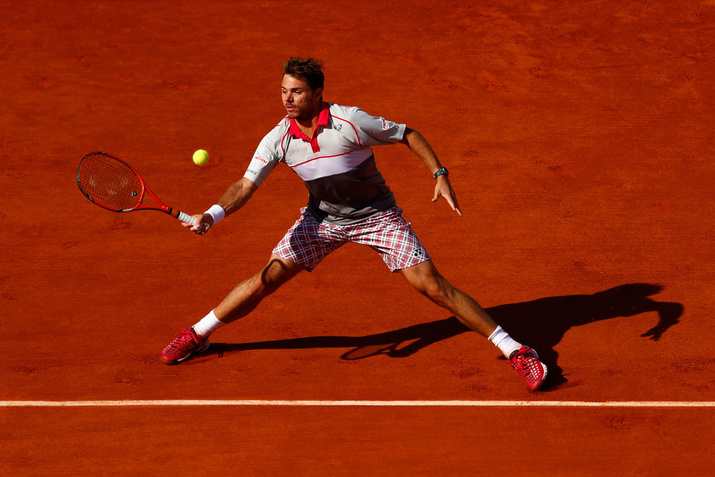 2. Stan Wawrinka (8) d. Roger Federer (2) 6-4 6-3 7-6(4)
Roger Federer had a great draw this year in the bottom half. This was his best chance perhaps to reach another final of a major at age 33. Until it wasn't.
He had avoided Djokovic, Murray, and Nadal, who were all in the top half. The one person whom everyone always forgets is his countryman Stan Wawrinka, who showed he could compete with the Big Four when he beat Djokovic and Nadal last year to win his first ever Grand Slam in Australia. Often known for his excellent one-handed backhand, he also is a different player now mentally. Stan believes in himself more and is finding ways of making it happen on the big stages like grand slams. This match-up with Roger was an interesting one, although Federer led their head-to-head 16-2. Both of Wawrinka's wins had come on clay, in Monte Carlo in 2009 and 2014.
Wawrinka needed his serve to work and had to get Federer to hit as many backhands as possible and play really heavy, giving himself more time to play aggressively and put Federer on the defense. Federer loves to use the backhand slice against him to keep the ball low and to end the points quickly at the net, and use his variety against Stan. However, if all this didn't work and Stan's aggressive play was on, this would be really hard for Federer. Indeed, it was. Stan came out really strong, striking his shots, finding the lines, and playing solidly on his serve. In the whole match, he won 88% of his first-serve points. In fact, Federer failed to break his opponent at all the whole match. That is the first time that's happened to him since the 2002 US Open quarterfinals.
This match once again proved that "Stan the man" could win another major, and his Australian Open victory clearly wasn't a fluke. He blew Federer away in two hours and was never troubled. Federer was simply overpowered and outplayed on a surface that favored his opponent.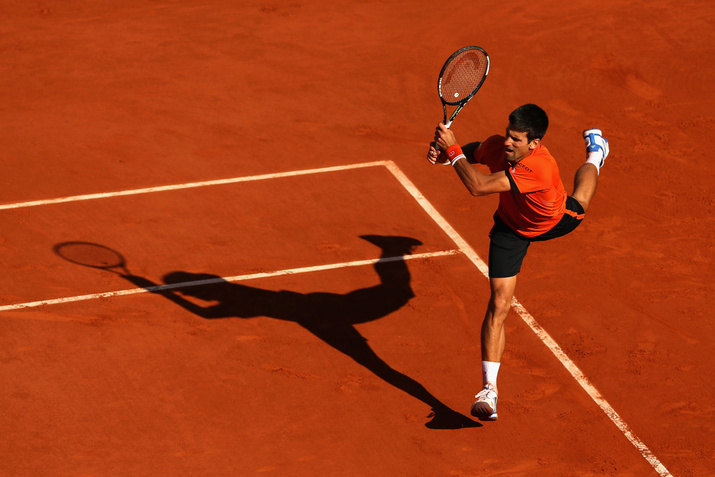 1) Novak Djokovic (1) d. Rafael Nadal (6) 7-5 6-3 6-1
Was this going to be the year when Rafa's streak in Paris ended? After all, he was 70-1 at the tournament and had won it in nine of the last 10 years. Beating him in Roland Garros is arguably the toughest thing to do in the history of tennis. However, this year Djokovic had been virtually unbeatable and possessed a 35-2 record coming into the French. Meanwhile, Nadal had been open about his struggles in getting healthy after he missed most of the latter part of 2014. Until the quarters, though, Nadal seemed to be getting it back, but he still faced a tough ask of having to play Djokovic in the quarterfinals before even thinking about getting his hands on the trophy.
It was clear from the first point that Djokovic would do anything to get his hands on a trophy in a tournament that has eluded him. His plan was very clear from the first point: serve very well, get Rafa deep into the corner on his forehand, wait for a short ball, and hit it in the open court. He tried to stay away from Rafa's inside-out forehand, which is his most penetrating shot on clay. Rafa clearly wasn't himself, and the first set was by far the most crucial of all. Novak took control and led by a double break at 4-0 in the first set. However, Rafa knew how important this match was for him and rose to the occasion to get the match back on even terms at 4-4. Nadal fought hard but was just not consistent enough to seize control of baseline rallies.
Novak looked a lot like what we have seen from him all year long, just being one step ahead every time. He was dominating his service games, and Rafa looked tight from the back of the court. Nadal played poorly in the third set, just as he had the whole clay court season. Djokovic sealed the match in two hours and 22 minutes with a double fault from Nadal. Now the French Open was his to lose. Or so we thought….
Teaser Image: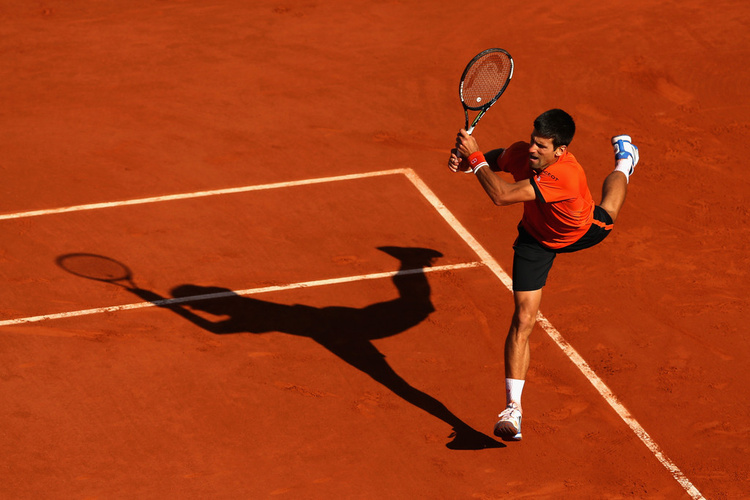 Inline Images: