Even though he didn't walk away with the hardware in Barcelona—a hard feat whenever Rafael Nadal is in the field—it was still an impressive tournament for young Canadian Milos Raonic, who made it to the semifinals at the ATP World Tour event.
With his cannonball serve and booming groundstrokes, Raonic doesn't exactly fit the prototype of "clay-court player." But his run there only continues what has become a trend in men's tennis: the success of the big man on clay.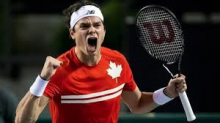 Raonic, at 6'5" and nearly 200 pounds, is only the latest of the game's giants to have a solid run on the dirt in 2013. American John Isner, at 6'9", recently beat two of the tour's best on clay—Juan Monaco and Nicolas Almagro—in consecutive matches to win the U. S. Clay Court Championships.
The same week that Isner was accomplishing that feat, 6'8" South African Kevin Anderson made it to the finals of the Grand Prix Hassan II in Casablanca.
And more success could be on the way for all three of them, dispelling the notion that title-winning efforts can only come on grass or hard courts. Because while there's only one clay-court tournament victory between them, a number of factors could change that in the months and years to come.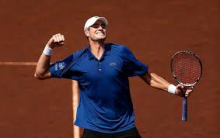 For one, with all of the surfaces playing more uniform, it's become easier to transition one's game from one condition to the next. Baseliners such as Nadal and Novak Djokovic win Wimbledons nowadays, a feat that wasn't so easy in the days of Pete Sampras and Goran Ivanisevic, when big serves ruled the day. In contrast, that applies to the clay as well.
Another factor that weighs heavily in the favor of tennis' more vertically inclined is the dirt helps set the ball up the perfectly for them. For example: In his first service game in the U. S. Clay Court finals, Isner set the tone for how the match was going to go after the first two points. He hit kick serves that pinned Almagro well behind the baseline, then smacked forehand winners from the weak replies.
It's a one-two punch that makes it difficult for nearly anyone.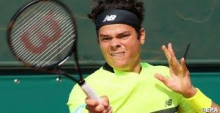 And the return games also offer an opportunity to take control of the point: It's hard to yank a 6'9" player out of position with a widely angled serve. If the opponent is forced to rally, then a Raonic or Anderson are often facing balls hit right into their wheelhouse, which might otherwise hinder a smaller player.
Now it's not to say that the "big men" of the game will start knocking off the David Ferrers or Almagros of the world on a regular basis. But what once might have seemed a tall order is being met head-on with the idea that they're no longer at a complete disadvantage on the dirt.
Teaser Image: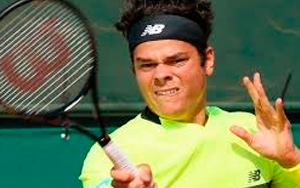 Inline Images: